Model NO.: XNFT-002

Cascade Level: Three

Driving Type: AC Elevator

Railing Form: EX-EN

Step Road Linetype: Linear

Escalator Usage: Indoor Commercial Escalator

Trademark: SYNEY or OEM

Transport Package: Regular

Specification: ISO9001: 2008

Origin: Zhejiang, China

HS Code: 8428400000

This is Commercial Escalator VVVF Autostart Stop Function (XNFT-002)

Indoor escalatoris usually adopted in supermarkets, shopping malls and public transportation places like subways and railway stations.
Escalator
Indoor and Outdoor
Travel Height
H≤30000mm
Step Width
600mm, 800mm, 1000mm
Inclined Degree
35°, 30°
Speed
0.5m/s, 0.65m/s
Escalator Width
1260mm, 1460mm, 1660mm
Noise
≤65dB
Vibration
≤35cm/s²
Flat step
2 flat step, 3 flat step, 4 flat step
Running
Single speed up &down reversible
Delivery
40ft high container
Power Supply
Power 380V , 50Hz Three Phase Five Wire System
Lighting 220V, single phase
Energy Saving Function
VVVF, Auto start stop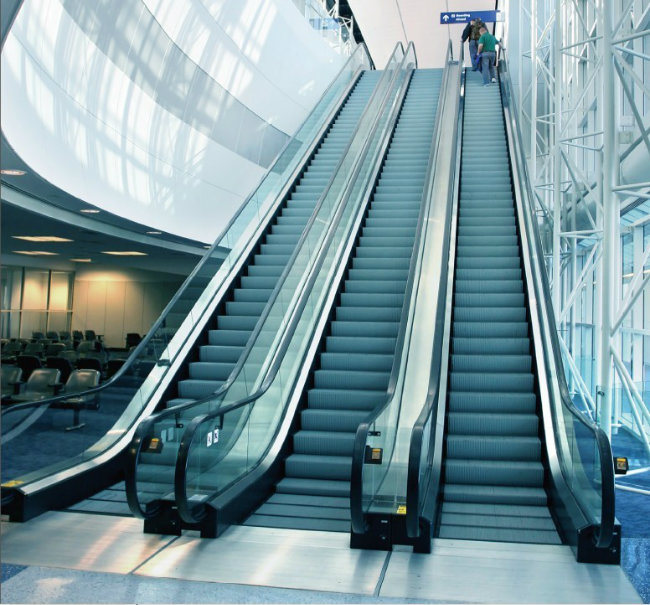 Escalator safety measures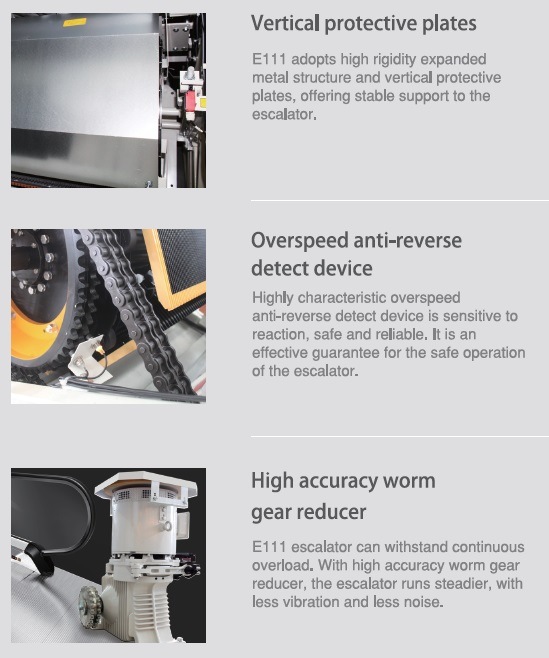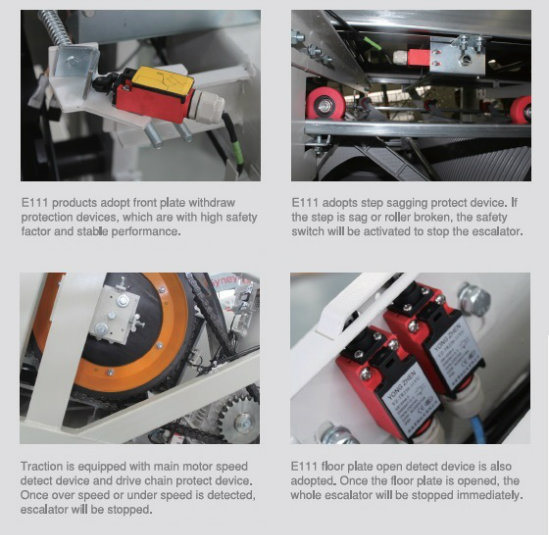 Functions

 
Standard safety functions
1
Emergency Stop Button
Yes
19
Machine Room Protect Board
Yes
2
Handrail Entry Contact
Yes
20
Step Light
Yes
3
Broken Step Chain Protection
Yes
21
Skirt Panel Contact
Yes
4
Comb Plate Contact
Yes
22
Step Yellow Safety Line
Yes
5
Inspection Socket
Yes
23
Alarm Bell When Start
Yes
6
Phase Failure and Phase Stagger Protection
Yes
24
Floor Plate Open Device
Yes
7
Step Sag Contact
Yes
25
Alarm Signs
Yes
8
Stop Button
Yes
26
Main Driving Chain Broken Protect Device
Yes
9
Main Power Switch
Yes
27
Overspeed Lowspeed Protection
Yes
10
Circuit Grounding Device
Yes
28
Step Static-free Device
Yes
11
Non-operational Reversal Safety Device
Yes
29
Handrail Belt Speed Detect Protection
Yes
12
Overload Protect
Yes
30
Floor Plate Open Detect Device
Yes
13
Portable Lamp and Socket
Yes
31
Step Missing Detect Protection
Yes
14
Handrail Belt Antistatic Device
Yes
32
Working Brake Open Detect Device
Yes
15
Traction Flywheel Cover Open Detect Switch
Yes
33
Skirt Panel Anti Clamp Device
Yes
16
Maintenance Power Supply Socket
Yes
34
Working Brake
Yes
17
Step Anti Bounce Device
Yes
35
Auto Lubricating Device
Yes
18
Safety Signs
Yes
 
 
 
Optional functions
1
Blocking device
â—‹
8
Handrail lightening
â—‹
2
Anti-climb device
â—‹
9
Direction indicator
â—‹
3
Anti-climb device is Not preset.
Yes/No
10
Oil-water separator
â—‹
4
Vertical protect board
â—‹
11
Liquid level switch
â—‹
5
Handrail disconnect protect device
â—‹
12
Heating device
â—‹
6
Brake shoe wearing detection
â—‹
13
Cladding
â—‹
7
Auxiliary brake
â—‹
 
 
 
About SYNEY

 

SYNEY ELEVATOR is the leading elevator & escalator manufacturer in China. Our main products include passenger elevator, freight elevator, goods lift, panoramic elevator, observation lift, hospital bed elevator, villa home lift, escalator, waving escalator and moving walk.etc.

 

Depending on advanced technologies, modern equipments, standardized management, and perfect marketing customer service network, the business of Syney Elevator has been improving steadily, not only covers the whole country, but also has been sold to Russia, Middle East, Southeast Asia, Korea and America, etc, becoming one of elevator enterprises with the highest potential.

 

The enterprise has two manufacturing factories. The registered capital is USD 35 million, covering nearly 99000 square meters, with over 600 employees. Among them, there are over 200 engineering technicians and nearly 50 senior managers.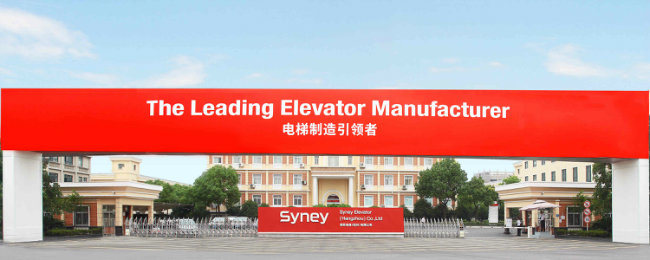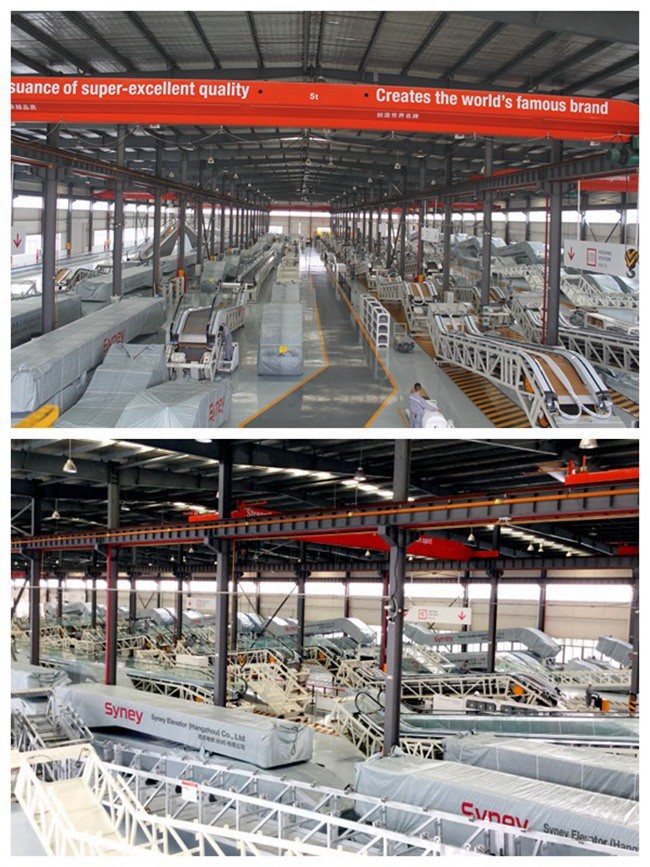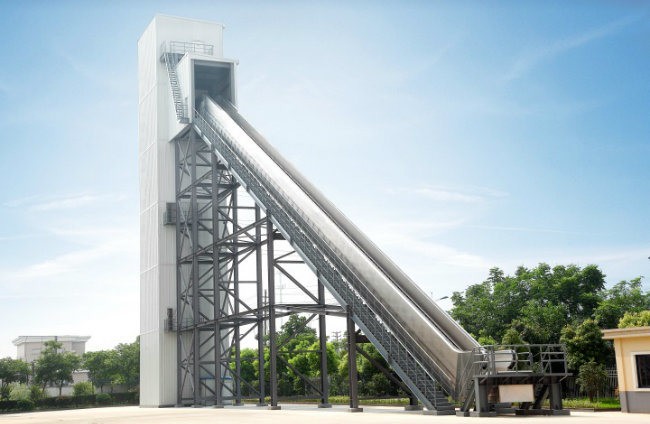 Metalworking is the process of working with the metals from iron, steel, non-ferrous metals to create individual parts, assemblies and so on. The term covers a wide range of work from Iron Castings, Steel Castings and Copper Castings. It therefore includes a correspondingly wide range of pump parts, valve parts, Auto Parts , Electrical Components etc..

Copper castings from our factory are made from casting, machining to final treatment. The material includes brass, bronze, and any other customized chemicals. (Brass castings, bronze castings and so on. )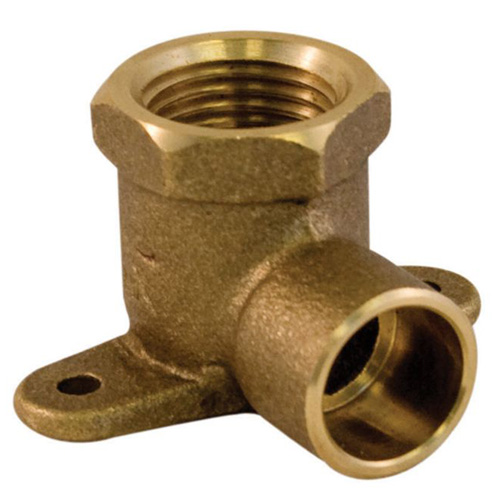 Copper Castings

Copper Castings,Copper Alloy Casting,Copper Aluminum Die Casting,Copper Pipe OEM Casting

Dandong Hengrui Machinery Co., Ltd. , http://www.hrcastings.com